Challenge yourself
Puzzles work out your brain and strengthen your mind

This is not just a puzzle — it is a wooden puzzle. It will be a great gift for both a child and an adult. 
The faraway jungle has its own king. He is kind and wise.
A majestic beast. There is no one more beautiful and more dangerous among the predators there.
The lovely tiger.
An incredible creation. His entire appearance is a contradiction, on the one hand he is a soft and affectionate cat. But on the other hand… We see the muscles moving under the skin. We see his power, and we know with ease how he plays with the most cunning of hunters.
Become the one who catches the tiger by the tail.
The new puzzle from Unidragon.
It is not simply a puzzle, it is a real hunt. Assembling the shapes we get closer and closer to the graceful tiger.
Among the trees and bushes we see a striped tail.
A light butterfly lands on its sensitive ear and immediately flies away again.
The birds are silent as he sneaks around. Even the noisy parrots prefer to be silent so that they don't get themselves into trouble.
Every piece of the puzzle is like a game of hide-and-seek with the wild beast.
The excitement of assembly is like that of the hunter.
And when the last piece falls into place, you have him appearing before you.
The beautiful tiger with big eyes, a sensitive moustache and powerful teeth.


This exciting game is suitable for school children and adults.
Size S - 19×24 cm (7.4×9.3 in) - 104 pcs - below average complexity, assembly time 1-2 hours.
Size M - 25×32 cm (9.8×12.3 in) - 181 pcs - average complexity, assembly time 2-4 hours.
King Size  - 30×38 cm (11.7×14.7 in) - 273 pcs - high complexity, assembly time 4-6 hours.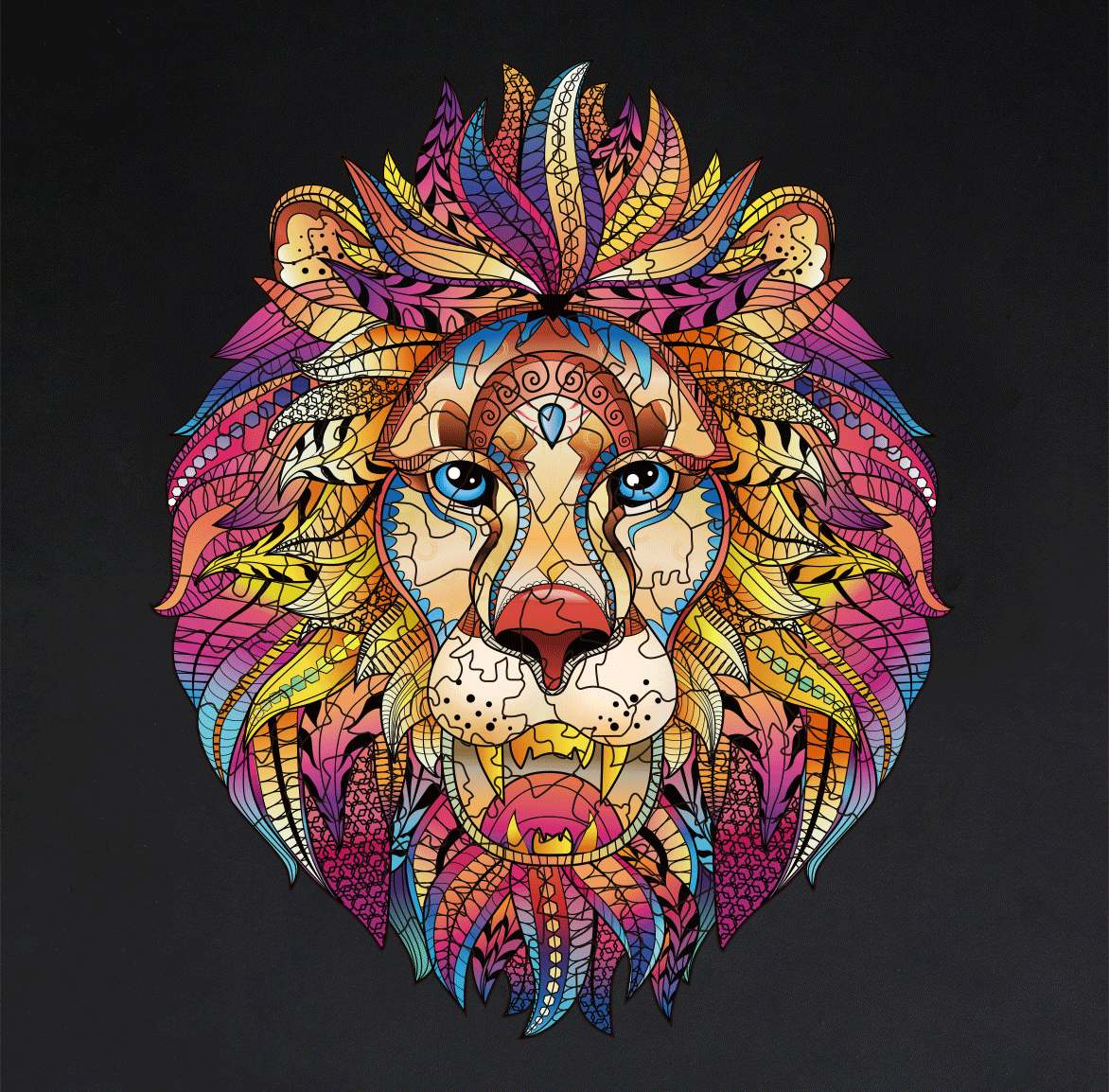 100% Moneyback Guarantee
We take pride in providing quality products and carefully inspect products before shipment. In the rare case that the item is faulty, damaged during transit, or if you're not satisfied with your order, please contact us for details on how to get a refund or replacement.
see more ˅
FREQUENTLY ASKED QUESTIONS
How does the size of the pieces differ for the puzzle sizes – S, M, KS, RS?
Our sizes change with the number of pieces, so the size of the pieces is the same in every puzzle.
Our puzzles are made from a pressured HDF that is 3mm thick. This material is eco-friendly, high-quality and durable. It doesn't deform and doesn't give splinters (like with plywood).
How long does each size puzzle take to assemble?
Check our illustration (link/popup of with an illustration of the sizes and photo of a girl). As well as the size pay attention to the assembly times:

S -> from 2 hours
M-> from 4 hours
L-> from 6 hours

The large puzzle will most probably take a couple of evenings to assemble so it is best to complete it on a separate table.
Who are the puzzles suitable for?
Wooden puzzles are a great gift for practically anyone.
You can spend an evening assembling the puzzle with your family, children, loved ones.
As well as puzzle lovers, our jigsaws are bought by creative people, board game lovers, people who like to do simple tasks with their hands
What do I do with completed puzzles?
Many customers use their puzzle as an alternative to board games: they visit friends or family and complete the puzzle together.
When you've completed the assembly process, don't put the puzzle back in the cupboard. Use it as interior decoration! We have developed a special gluing system for this which fixes the puzzle together and sticks it to the wall.
This is suitable for all sizes, with the help of one set you can fix and hang 8 small puzzles, 4 medium puzzles, or 4 large puzzles.